One of the new features in the development build of Edge at the moment is this Discover button, for some users its a purple star, for others its got the Bing logo, and as expected connects to a wide range of Bing services, including the new Chat AI. As it stands at the moment this will likely ship in version 111, i.e. the next big release.
I imagine the behaviour of this button will annoy many users as it looks distracting and opens on a long hover aswell as left-click, no doubt prompting many accidental openings.
I'm leaving it on at the moment as I am trying to use Bing Chat in more of my workflows. However there's no hiding the fact a lot of people will regard this as bloatware and those people who want a minimum clean browser will want the option to disable it.
At the moment there are two ways, the first launching the browser with --disable-features=msUndersideButton. Below showing that setup in an Edge shortcut.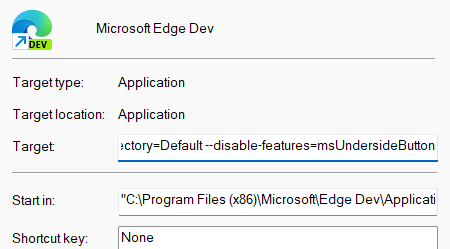 Once launched with this, it'll disappear: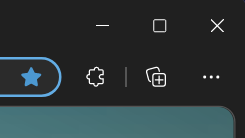 Alternatively you can add the below registry key and reload the policies in Edge to hide it:
[HKEY_LOCAL_MACHINE\SOFTWARE\Policies\Microsoft\Edge] "HubsSidebarEnabled"=dword:00000000
Hopefully in the future Microsoft will add a simple hide in a right-click menu on it, or at least an option exposed in the settings UI - or failing that a browser flag to hide it.
Update, 18th March 2023
The new Canary build 113 of Edge is now shipping with an option for this under Settings > Sidebar > Discover.
Update 23rd April 2023
The toggle button in settings has now shipped in version 112.