What was that bright star next to the Moon?
Last night some of you may have seen a bright star close to the Moon, well it wasn't a star it was the planet Jupiter. It's been hanging out towards the south in the evenings for the summer if you hadn't already spotted it.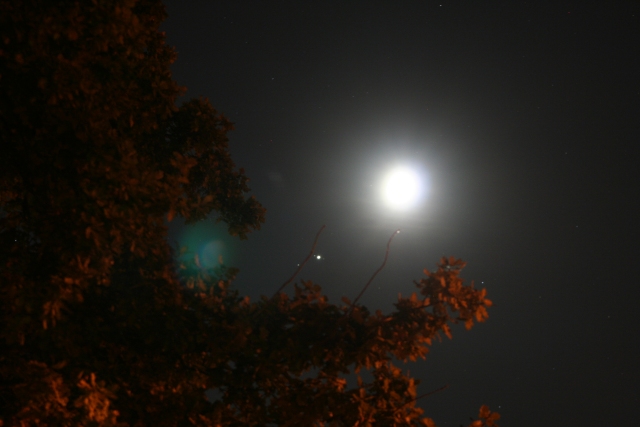 The star to the lower-left of Jupiter is Iota Capricorni. But if you look closely you can see two other "stars" either side of Jupiter. They're not actually stars but two of Jupiter's moons. To the left is Ganymede and to the right is Callisto. The above image has over-exposed the Moon to show the tree around it. The somewhat green flare opposite the Moon in the image is the reflection of the Moon caused by the camera's optics.
Below is a close up of Jupiter.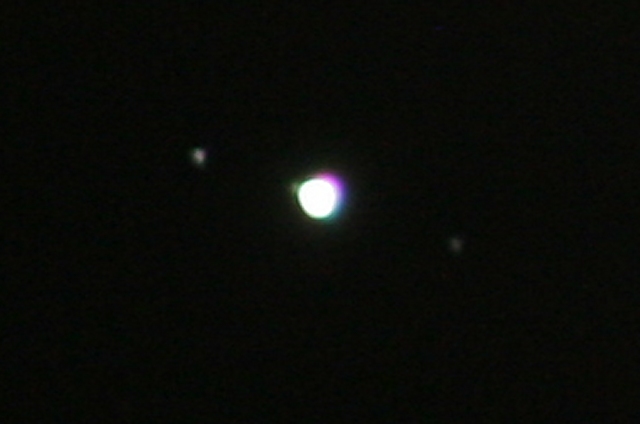 In this image we can see a third Moon, just poking out around the left limb of Jupiter, this is Io. There's another large Moon that is normally visible and that's Europa, but yesterday evening when these images were taken it was on the far side of Jupiter.
9 comments
I had noticed it these past few days when walking home, was very prominent last night :)
30th September 2009 @ 07:52
Nice info. easy to navigate, and the cosmos has always interested me. I took some classes in hs and college.
25th November 2009 @ 01:48
Can you tell me what this bright object in the sky is? Im in Philadelphia and around 10 it is in the sky towards the West and seems to be moving towards the East. Around 5 am it seems to be in the Northeastern skies? It is very bright and sometimes low in the sky. Is this Venus?
2nd January 2011 @ 16:57
In the evenings in the west we'd be looking at Jupiter, in the mornings in the east however that would be Venus.
2nd January 2011 @ 18:56
Comment
from:
Brian Siegesmund
[Visitor]
I have been seeing these 2 planets for about a month now in the sky towards the South of where I live... last night was the best.... the cresant moon was inbetween them both.... what a sight !
12th August 2012 @ 12:06
Comment
from:
DON KOCIELKO
[Visitor]
I LIVE IN SOUTHERN CALIFORNIA AND I USED MY IPHONE STARMAP APP. AND COULD SEE VENUS LOWER LEFT OF MOON AND JUST ABOVE THE MOON THERE WAS A BRIGHT LIGHT THAT MY STARMAP HAD NO ANSWER FOR. I VIDEO TAPED IT FOR ABOUT 30-40 MIN. I PUT IT ONTO MY COMPUTER AND USING VLC PLAYER I ZOOMED IN AND PAUSED AND WENT FRAME BY FRAME AND COULD SEE MOONLIGHT SHOWN BEHIND IT. SO IT MUST HAVE BEEN CLOSER THAN THE MOON,OR THE MOONLIGHT WOULD HAVE GONE IN FRONT OF IT. FRAME BY FRAME IT LOOKED LIKE A METALIC BALL WITH BLACK CIRCLE AND OVAL SHAPES. WHICH MAY OR MAYNOT HAVE BEEN LIGHT DISTORTION.I'M NOT SURE WHAT IT WAS BUT IT LOOKED ABOUT 1/8 OF THE MOONS SIZE ,AND IF IT WAS JUPITER THEN MY STARMAP SHOULD HAVE SHOWN THAT, BUT IT DID NOT.
8th September 2012 @ 20:08
Tonight we are seeing a 'star' on both west and east side of almost half moon. Venus and Jupiter??
6th July 2014 @ 05:03
Been watching it all week (6-15-15 ) here in South Carolina
17th June 2015 @ 15:48
Comment
from:
JoAnn Nuara
[Visitor]
This site has not only taught me a lot, it has taught my grandchildren too!! Thank you
9th October 2015 @ 12:00