So since Microsoft got into the anti-virus game a few years back, Symantec have been whining, their whining went into overdrive a few months back when the beta of Microsoft Security Essentials was released.
And now since MSE has been released, they're back with more FUD/nonsense/complaining and general pathetic behaviour.
From TechWorld:
"Security Essentials won't change anything," said Jens Meggers, Symantec's vice president of engineering. "Microsoft has a really bad track record in security," he added, ticking off several ventures into consumer security that the giant has tried, including Windows Defender, an anti-spyware tool bundled with Windows Vista and Windows 7; the released-monthly Malicious Software Removal Tool; and OneCare.
A bad track record? Haha ha since 2006 Microsoft has been solid as a rock on security, the top 10 web exploits happening on Windows Vista aren't even in Microsoft code, they're in Adobe code, Apple code, Real Player code etc. From SIRv6: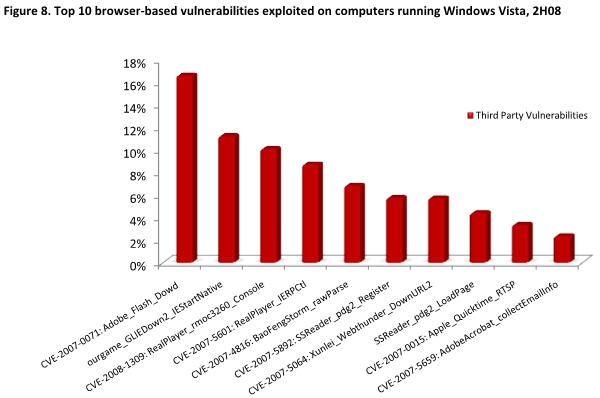 To repeat that again, the top 10 web exploits are happening in 3rd party code, not Microsoft code, despite the fact everyone is running that Microsoft code, not everyone is running Apple's QuickTime junkware yet it still gets more exploits.
Windows Defender is a solid piece of anti-spyware, and all I recommended people to use on that front, although nowadays I recommend MSE, might as well have free anti-virus too.
Malicious Software Removal Tool, which gets pushed down Windows Update every month or so, also does its job well and removes the most common infections. It's not supposed to be a real-time scanner, or an application you install.
OneCare, like ForeFront and Security Essentials has one of the best real-time engines in the industry, with very few false positives.
Just today AV-tests.org released data showing a detection rate of 98.44% out of 545,034 malware samples.
In May tests by AV-Comparatives, rank OneCare second in detection of new malware, but also importantly it scores the lowest false positives by far, meaning it won't detect genuine files as being malicious.  Which is what led AV Comparatives to award it the highest ranking.  Here's the data for new malware detection rates.  Where's Symantec, oh right down the bottom with a dismal 35%.
| | |
| --- | --- |
| Avira AntiVir Premium | 69% |
| Windows Live OneCare | 60% |
| Eset Nod32 | 56% |
| BitDefender | 50% |
| AVG Anti-Virus | 45% |
| Avast Professional | 42% |
| Sophos Anti-Virus | 37% |
| Symantec Norton | 35% |
| McAfee VirusScan Plus | 25% |
| F-Secure Anti-Virus | 14% |
"Like OneCare, Security Essentials is a poor product," said Meggers. "It has very average detection rates. And now they've decided to go for the free market, but that's a very crowded market. There's not much room to grow there."
Growth? I don't care about that, and neither do other end-users we just don't want our systems hosed, and we don't want bloatware all over it.
Symantec's Meggers also wondered what took Microsoft so long to come up with Security Essentials. "It takes them an entire year to remove features from OneCare, to make something even worse than OneCare?" Meggers asked. "I could have done that with three developers in three months."
Yeah the key difference here is MSE actually works, unlike Norton products.
Look how long it took them to build it. Security needs constant innovation. When was the last time that Microsoft innovated?
Innovation (every PR person's favourite word) hey How about last week with the Courier? Oh? Not like that? You mean something wonderful like the Norton browser toolbar, the same browser toolbar that doesn't work properly: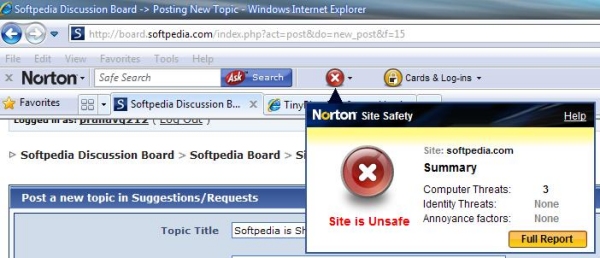 Sorry Symantec that's not the sort of innovation people want, that's what people don't want, we call it bloatware, may be you've heard of it.
Yes, they are pathetic.