British "ex-pats" (as they're often referred to - when technically they're migrants) have noticed that streaming of British Sky programs no longer seems possible. Looks like sadly they'll need to integrate properly into Spain, and learn the language now - just like migrants to Britain frequently get told to.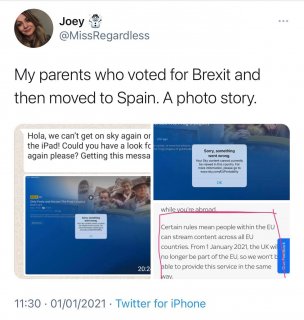 Sky Go ends streaming across the EU
Joey: "My parents who voted for Brexit and then moved to Spain. A photo story."

The parents: "Hola, we can't get on sky again on the iPad! Could you look for us again please? Getting this message:"

The message: "Sorry, something went wrong. Your Sky content cannot currently be viewed in this country. For more information, please go to www.sky.com/EUPortability"

The website: "Certain rules mean people within the EU can stream content across all EU countries. From 1st January 2021, the UK will no longer be part of the EU, so we won't be able to provide this service in the same way."
Just another one of Brexit's benefits. Guess they'll need to get used to Spanish TV. Of course the right-wing snowflakes were out in force, annoyed that anyone could say anything bad about their beloved Brexit, including this "independant thinker", who was upset over some replies to him:
Literally the only replies to him were "If you can't make a few jokes in regards to your parents, maybe it's you that doesn't have the good relationship" and "I mean just because they recklessly endangered their children and children's children's financial future by voting for an absolutely ridiculous proposition, that's no reason to ...lightly rib them on Twitter. Give it a break man".
Yes I now use the term right-wing snowflakes, to literally use their boneheaded insult back against them.