After twenty four years Adobe Flash today reached end-of-life, and the product is no longer supported. If you're using Microsoft Edge, Google Chrome or most other browsers, their respective developers have already released updates that disabled it.
However if Adobe Flash has been installed manually, or pre-installed by your PC manufacturer its possible you'll get this prompt appear: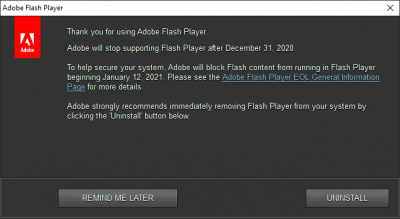 Adobe Flash end-of-life
It's probably worth checking in Settings -> Apps and seaching in there for Adobe Flash and uninstalling it.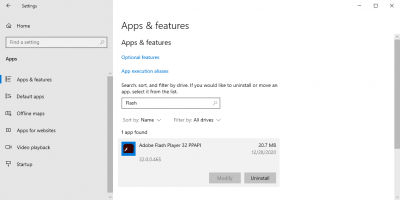 Installed apps showing Adobe Flash
Adobe Flash was pretty popular back in the olden days, being installed on most computers connected on the internet, being required to handle animations, and media playback on the web.
But it was also a common source of exploits and vulnerabilities - and annoyance for end-users with its constant pop-ups and required installs, this was remedied a bit later with browser manufacturers building in the plug-in in out of the box (and distributing updates), but with the development of HTML5 video and WebGL it essentially became unnecessary for most users.
The Internet Archive is archiving a lot of the old Flash content, and a lot of it is playable in their emulator.