One of the major changes in Windows 7, is the new Taskbar. By default it looks something a little like this:

Now if you're like me, and would rather it make better use of onscreen real estate you can stop the icons from combining (although to be fair I do use the default setting on my Tablet PC and my netbook), and turn on text labels again, that'll make it look more like this:

Personally I not only find that option more attractive, but when you've got a dozen or so explorer windows open, trying to access them all off one icon, isn't a pleasent experience. By making this change you can break out seperate windows, back into seperate objects on the Taskbar, like how it behaved in the past.
Making this change is pretty simple.
Right-click an empty area of the Taskbar
Select Properties from the Menu
Using the drop down box next to Taskbar buttons select Combine when taskbar is full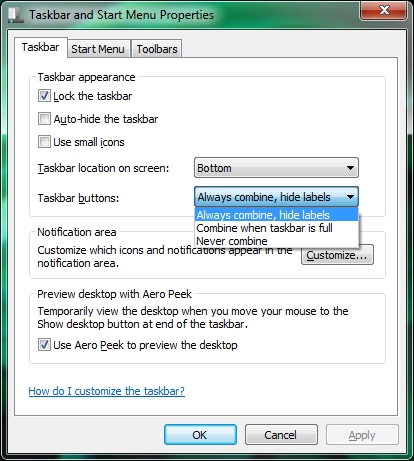 Selecting Never Combine, will make the Taskbar wrap around onto a second 'page' requiring you to scroll up and down to access different icons, and isn't something I recommend.
From here you can also change the Taskbar to use small icons, which will make it the same height as the old Taskbar were by default.