So I've managed to sit down and use Apple's attempted copy of a Tablet PC for half an hour or so. Dubbed the iPad, the model number on the back reads TC1100, with a manufacturing date in 2003. Hmmm weird. Moving along.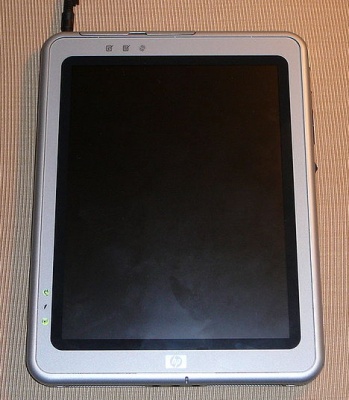 So what have we got in this machine? It comes with a 1Ghz processor (ouch Catherine's HTC HD2 mobile phone has a 1Ghz processor) and sports a 4:3 (no widescreen in this day and age, not good for media watching) that has a resolution of 1024x768. Kind of lacking considering I'm used to Tablet PCs with 1440x1050, really the minimum in my opinion as that way browsing the web isn't annoying in portrait mode as you've got over 1024 pixels in width.
The machine in question runs Windows XP Tablet Edition, possibly a bit of a strange choice for Apple, again in this day and age one would really hope for Windows Vista or Windows 7. It does however sport a proper Wacom digitiser now, unlike HP *coughs* last model which required one of those weird battery powered pens.
All in all, in this day and age (again), this machine seems a bit lacking. Back in 2004 or 2005 it was pretty much cutting edge for a slate Tablet PC. Releasing something like this in 2010, with those sorts of specifications, with the an unknown amount of RAM, and no doubt less than HP's TC1100 shown above, essentially nothing more than a giant iPhone (without the telephone), a strange sort of Tablet PC that you can't use for note-taking, or handwriting on, or drawing in Photoshop (not that it can even run Photoshop of course) with an old 4:3 screen when its being marketed as something to watch TV or films on, with it being locked into a single store, not capable of running anything other than software approved by the manufacturer with a bezel that fat is frankly more of an iDud.
I prefer the look of HP's latest slate Tablet PC:
Not only does it actually look good. It's a proper computer, that runs a normal operating system, in this case Windows 7 so you can do everything you can on a normal computer. You can take your existing PC applications and put them on this little beauty.
Personally I'll be keeping my Motion LE1700 for a while, and then maybe I'll look at MSI's dual-screen netbook when its released.