Tag: "hp"
HP released a video showing more of their Slate computer. It's presented entirely by someone from the Adobe Flash platform team interestingly enough.
So the key bit of new information from this video seems to be the Air application HP are using for an application launcher. I don't think that's been mentioned before, but it isn't that big news really. Like their multi-touch desktops they always have a specific front-end on them. I just hope they give the Slate 2GB of RAM.
The main point of the video essentially seems to be a long stab at what the iPad can't do. It mentions statistics like 85% of the top 100 websites use Flash, 75% of all video uses Flash. In addition Adobe estimate more than 70% of all casual games on the web are written in Flash. And obviously to anybody following along, none of that will work on the iPad.
It's good they're trying to communicate these facts, back when the iPad was announced the only thing media could say was how amazing it is, while quoting Steve Jobs saying it'll provide the best browsing experience on the planet - something a bit difficult to argue considering it doesn't support Flash. Obviously nobody from Apple plays games on Facebook, or Portal Forums so it seems.
So I've managed to sit down and use Apple's attempted copy of a Tablet PC for half an hour or so. Dubbed the iPad, the model number on the back reads TC1100, with a manufacturing date in 2003. Hmmm weird. Moving along.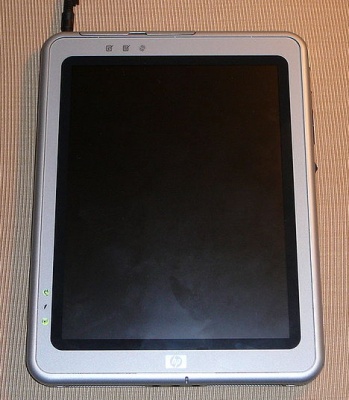 So what have we got in this machine? It comes with a 1Ghz processor (ouch Catherine's HTC HD2 mobile phone has a 1Ghz processor) and sports a 4:3 (no widescreen in this day and age, not good for media watching) that has a resolution of 1024x768. Kind of lacking considering I'm used to Tablet PCs with 1440x1050, really the minimum in my opinion as that way browsing the web isn't annoying in portrait mode as you've got over 1024 pixels in width.
The machine in question runs Windows XP Tablet Edition, possibly a bit of a strange choice for Apple, again in this day and age one would really hope for Windows Vista or Windows 7. It does however sport a proper Wacom digitiser now, unlike HP *coughs* last model which required one of those weird battery powered pens.
All in all, in this day and age (again), this machine seems a bit lacking. Back in 2004 or 2005 it was pretty much cutting edge for a slate Tablet PC. Releasing something like this in 2010, with those sorts of specifications, with the an unknown amount of RAM, and no doubt less than HP's TC1100 shown above, essentially nothing more than a giant iPhone (without the telephone), a strange sort of Tablet PC that you can't use for note-taking, or handwriting on, or drawing in Photoshop (not that it can even run Photoshop of course) with an old 4:3 screen when its being marketed as something to watch TV or films on, with it being locked into a single store, not capable of running anything other than software approved by the manufacturer with a bezel that fat is frankly more of an iDud.
I prefer the look of HP's latest slate Tablet PC:
Not only does it actually look good. It's a proper computer, that runs a normal operating system, in this case Windows 7 so you can do everything you can on a normal computer. You can take your existing PC applications and put them on this little beauty.
Personally I'll be keeping my Motion LE1700 for a while, and then maybe I'll look at MSI's dual-screen netbook when its released.
REDMOND, Wash. — June 2, 2008 — Microsoft Corp. today announced that it has won a key distribution deal with HP, the world's largest PC manufacturer, to install a Live Search-enabled toolbar on all HP consumer PCs planned to ship in the United States and Canada, beginning in January 2009. As part of this deal, the default search engine setting in the browser on all HP consumer PCs will also be set to Microsoft Live Search.
OK, fair enough. Microsoft give HP money, HP put Microsoft's toolbar on their computers and set the default search engine to Live Search.
Paul Thurrott however asks us:
[I]s this ironic? Hypocritical? Or just pathetic?

I think its all three.
OK, sure he's got a point. Computer manufacturers should stop bundling junkware with computers, and yes Microsoft employees have hinted that they're not too pleased with how much junk is installed, and that it is damaging the user's feelings towards Windows, despite not being anything to do with Microsoft or Windows. Obviously they can't stop computer manufacturers from doing this, especially with their past legal record.
To solve this, you need a customer revolt. So the money that the computer manufacturers get out of these deals isn't worth the damage done to their sales from bundling all this junk. The trouble is for Joe Public, there's no way to tell before hand, and if there is the junkware is sold as a feature (without mentioning the negative side-effects) as such market forces don't act against the problem. So despite technology enthusiasts going on about it for years, no progress is being made.
If Microsoft hadn't done this deal what would be on the computer instead? The Yahoo or Google Toolbar, with their search engines as the default.
End result? No change for the end user on the amount of junk installed on the computer.
In short, I think it stinks. The Windows Live Search toolbar—like Windows Live Search itself--should succeed or fail on its own.
I think Google should be allowed to succeed or fail on its own. We all know its not going to happen because Google start throwing money at computer manufacturers to install their junkware, when was the last time anybody brought a computer that wasn't covered in Google junkware, or had the browser search set to Google?
Microsoft shareholders aren't going to be happy if the company just sits back and watch as every computer sold has Google's search engine on it, its called business. It isn't nice, but its all we've got (for now).