About me
About me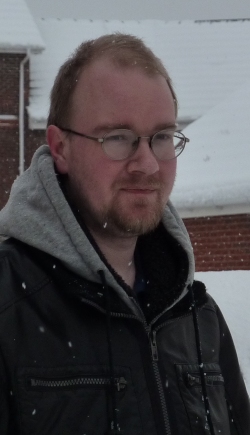 Hi there
So you found my about me page. Well I'm Paul Smith and this is my blog as you may have already guessed. Beyond hanging out on a few forums here and there this is my main focus on the internet these days. Yes you might remember me from Usenet and the Undernet, well hello there, nice to see you again.
I was born back in 1982 and lived most of my life in Yeovil, that's in Somerset in the UK. I have since moved to Aldershot, which is in Hampshire. I was educated at Saint Gildas' RC Primary and Buckler's Mead Community school.
I've worked in retail since leaving school, which provides me with my modest income. I've tested about two dozen games for Microsoft over the years, well back when they used to make games; yes I'm the guy that made sure the Millennium Dome was moved to its proper location in Flight Simulator. I also have a collection of gaming-related websites that are, well were mildly successful. I've also been a parliamentary candidate in Yeovil. In addition to that I've received the MVP award from Microsoft between 2006 and 2011 for my contributions in online technical communities. I've also hosted Gamercast since 2005.
---
Contact me
E-mail
There's a few different ways you can get in touch. The most obvious is e-mail, no social-networking hasn't taken over. E-mail is still king, must resist HTTP arrrgh. You can e-mail me at paul@dasmirnov.net.
Please bear in mind I get a fair bit of tech support requests in my e-mail. I simply can't answer all of them. If you're after technical support (at least with Microsoft stuff), hit the Microsoft Answers forum. I post on there, and it'll be better if my time can be spent not only helping you but anybody else who comes along later with the same problem. If you prefer lolcats and flame wars with your technical support check out Portal Forums, I hang about on there too.
Messenger
I also use Windows Live Messenger. Feel free to add me, my Windows Live ID is paul@dasmirnov.net.
Keep in mind the technical support stuff mentioned above.
The rest
I don't like Facebook and Twitter, but I do use them. You can also find me on a bunch of gaming services:
GfW/Xbox Live: daSmirnov
Steam: daSmirnov
Battle.net: Paul@dasmirnov.net
3 comments
I've been using Backup in Win7 for a couple of months now. In the screen "What do you want to back up?" there is (was) an option for "Let me choose" (referring to files to be backed up). I made a selection, but would now like to change it, but I can't get access to the screen showing this. I would very much appreciate some advice on how to do this.
16th August 2010 @ 18:23
Comment
from:
David Gehlhausen
[Visitor]
Just a note to say thanks for explaining how to "castle" in Chess Titans using the "purple" square!
David Gehlhausen
10th November 2010 @ 00:58
do u know old civilizations like sumerians how to interpret cosmology ?their mythology
24th August 2012 @ 08:49