Archives for: "July 2010"
Microsoft released the new Beta of the developer tools for Windows Phone 7.
Probably the most interesting bit for end-users is the Windows Phone 7 emulator, which lets us have a little play with the device. However in the original only Internet Explorer is available but like always the guys at XDA Developers cracked that emulator image to unlock full functionality like they did with the last 2 CTP releases. So if you're curious what Windows Phone 7 will look like check out the video Long Zheng put together earlier.
What I'm excited about is OneNote integration with SkyDrive - something we don't have with OneNote 2010 on Windows Mobile at the moment, it'll only sync with SharePoint. But it looks like with Windows Phone 7, we can sync directly with SkyDrive, which means Gamercast's shownotes can be done out and about now, sweet.
*Assuming you can find games that even work on a Mac.
The Macintosh gaming scene received a boost earlier this year when Valve announced they were bringing Steam, along with their Source games like Half-Life 2, Team Fortress 2 and Portal over to Mac OS X.
I was expecting to see Adam (the only person I know with a Macintosh) on Steam a lot more, and maybe even playing games with me. Before he'd have to boot into Windows and so it was quite rare we'd ever have a game together. I was thinking great, now I'll see Adam on all the time and we can play some TF2. I was wrong however, I haven't seen him logged in on Steam once. Maybe he just doesn't feel like playing games he played on the PC 5 or 6 years ago.
Or maybe there's another reason. Anandtech recently did some benchmarks. Let's just say, the results aren't good for the Macintosh.
On a 2010 MacBook Pro, Half-Life Episode 2 runs 54% faster under Windows than on OS X. Now that's a fairly low-end system. Let's be honest, it's a laptop. Laptop = weak graphics.
How about on a high-end system? Something like a computer with 2 x 2.93Ghz Quad-Core (eight cores in total) Nehalem Xeon processors, 6GB of RAM and a GeForce GTX 285.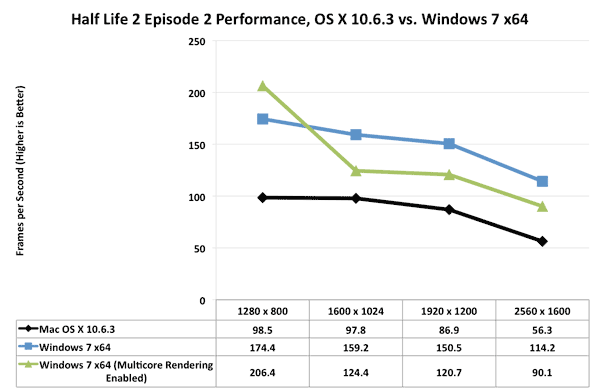 Windows gets, quite literally over twice the framerate at some resolutions. Ouch. Maybe this explains why I've not seen Adam joining the Gamercast weekly TF2 matches, maybe it just runs too slow.
That's not all that's bad with the Mac OS X versions. The graphics are foggy and have quite obvious texture banding in some locations. So not only is it drastically slower, but it also looks worse.
If you wanna play games don't get a Macintosh.
In my on going struggle with Creative and their Soundblaster Audigy 2 ZS I've now come across a new problem that manifested a couple of weeks ago. I'm not entirely sure why it started happening then, maybe it was the heat? Maybe after 7 or 8 years the card is finally starting to die.
Now sometimes after resuming from sleep, any sound has distortion and noise in it. So far I'm restarting the Windows Audio service to get things back to normal.
There's a couple of ways to restart services in Windows Vista or Windows 7. The quickest way is to open an elevated command prompt by pressing Start, typing cmd right-clicking on the cmd program when it shows up, right-click and select 'Run as administrator'. Alternatively to right-clicking and selecting the option you can also hold CTRL+Shift and click instead, both should elevate.
Once its open, type the following, giving a short pause to allow the system to stop the service:
net stop audiosrv
net start audiosrv
The sound should now be back to normal.
You can also restart the service, by typing services.msc into the Start Menu (you won't need to elevate this), alternatively it can be opened via the Services tab in the Task Manager. Then find the Windows Audio services, right-click and select restart.